Departures DUS
Departures Düsseldorf Airport DUS
Departures at Düsseldorf Airport View the departure times online and you will always get off safely at Düsseldorf Airport DUS.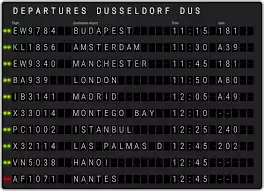 Scoreboard of the Depart
All information on this flight status and airport data "Düsseldorf Airport Departure" is subject to change, as it can change at short notice.
Departure - Destination - About - Flight Status - Codeshare - Terminal - Hall - Gate - Check-In Departures Düsseldorf Airport Today on 01.10.2023
Departures tomorrow 10.02.2023 oder am 10.03.2023
Düsseldorf Airport
Düsseldorf Airport (German: Flughafen Düsseldorf, pronounced [ˌfluːkhaːfn̩ ˈdʏsl̩dɔʁf]; until March 2013 Düsseldorf International Airport; IATA: DUS, ICAO: EDDL) is the international airport of Düsseldorf, the capital of the German state of North Rhine-Westphalia. It is about 7 kilometres (4 mi) north of downtown Düsseldorf, and some 20 kilometres (12 mi) south-west of Essen in the Rhine-Ruhr area, Germany's largest metropolitan area.

Düsseldorf is the fourth largest airport in Germany and handled almost 8 million passengers in 2021. It is a hub for Eurowings and a focus city for several more airlines. The airport has three passenger terminals and two runways and can handle wide-body aircraft up to the Airbus A380.
Terminals
Düsseldorf Airport has three terminals connected by a central spine, even though the terminals are essentially concourses within a single terminal building. The current terminal buildings are capable of handling up to 22 million passengers per year.
Terminal A
Terminal A was opened in 1977 and has 16 gates (A01–A16) used by Lufthansa and Eurowings, its airline partners and Star Alliance members, All Nippon Airways, Austrian Airlines, Croatia Airlines, LOT Polish Airlines, Scandinavian Airlines, TAP Portugal, and Swiss International Air Lines. Terminal A houses two Lufthansa lounges. It was refurbished fundamentally for two years after the 1996 fire. From 21 July 2016, Singapore Airlines began to use Terminal A.
Terminal B
Terminal B was originally inaugurated in 1973 and has 11 gates (B01–B11) used for domestic and EU-flights by a few Star Alliance members such as Aegean Airlines, but mainly by SkyTeam and Oneworld members like Alitalia, British Airways, KLM, Finnair, Iberia, and Air France. Also located within this terminal are leisure carriers such as TUIfly and Condor. Terminal B houses an observation deck and airline lounges by Air France and British Airways. After the fire in 1996 the whole terminal building was torn down and reconstructed. It was reopened in 2001.
Terminal c
Terminal C was opened in 1986 and has 8 gates (C01–C08) used exclusively for non-Schengen-flights by non-Star Alliance airlines (except Turkish Airlines). These are long-haul flights – among others – by Emirates, Etihad Airways, and Mahan Air. Terminal C has a direct access to Airport City's Maritim Hotel, part of a German hotel chain, and houses lounges operated by the airport and Emirates. Terminal C was the least affected Terminal after the fire in 1996. It was still reopened in 1996 after intensive maintenance works. Thus it was the only usable Terminal at Düsseldorf Airport for a couple of years. Terminal C features the airport's only parking position equipped with three jet-bridges to handle the Airbus A380.
Executive Terminal
Jet Aviation operates a small terminal solely for private and corporate customers.
Source: Flugreise-Duesseldorf.de