Arrivals DUS
Arrivals Düsseldorf DUS Airport
Arrivals at Düsseldorf Airport View the arrival times online and you will always arrive safely at Düsseldorf Airport DUS.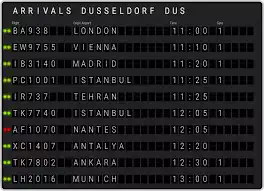 Landings scoreboard
All information on this flight status and airport data "Arrival Düsseldorf Airport" is without guarantee, as it can change at short notice.
Arrival - Departure - About - Flight status - Codeshare - Terminal - Hall - Gate with arrivals Düsseldorf Airport Today on 10.01.2023
arrival arrival times arrivals landing times Flughafen Düsseldorf "Düsseldorf Airport" - Arrival Düsseldorf today Sunday 10.01.2023
Arrival Airport Düsseldorf
Terminal A Terminal A serves as a base for Lufthansa and Eurowings as well as other members of the Star Alliance (Air China, All Nippon Airways, Austrian Airlines, Croatia Airlines, LOT Polish Airlines, SAS Scandinavian Airlines, Singapore Airlines, TAP Portugal and Swiss).
Terminal B Terminal B is used for domestic and European connections by members of the Oneworld and SkyTeam alliances, including British Airways, KLM, Finnair, Iberia, Air France and Czech Airlines. Numerous charter airlines such as TUIfly and Condor are also represented at Terminal B, but Star Alliance airlines such as Aegean Airlines and partners such as Air Malta also depart from Terminal B.
Terminal C Terminal C is mainly used for flights outside the Schengen area by airlines that are not members of the Star Alliance. Flights from Delta Air Lines, Emirates, Etihad and Mahan Air, among others, are handled there. A Star Alliance member, Turkish Airlines, also uses this terminal. There has been a prayer room for Muslims in Terminal C since 2013. There is direct access to the Maritim Hotel.
Arrival and Change
Transferring at Dusseldorf Airport is easy. You stay in the same building and usually only have short distances. Since the completion of the transfer aisle between Piers A and B in 2013, it has been possible to transfer between all Piers without leaving the security area.

Between Lufthansa/Star Alliance flights (e.g. Lufthansa, Austrian, Croatia Airlines, LOT Polish, SAS, Swiss) you will find the connecting flight in Gate A.
When connecting between flights of the SkyTeam group (e.g. Aeroflot, Air France, Czech Airlines, Delta) you will find a connection in Gate B or C.
It should be noted here that in the case of transit bus arrivals in arrival area A (Gate B91), you should not take the direct route into the terminal building (this will leave you out of the security area and you will have to go through another security check), but instead take the outside staircase to the left of the entrance. Here you enter terminal area A within the security area near gate A25 directly next to the transfer aisle to departure area B and do not have to undergo another security check.
Taxi
Taxi - You have to reckon with the following costs for a taxi ride to Düsseldorf Airport:

from Düsseldorf main station approx. 30 €
from Neuss center approx. 45 €
from Ratingen center about 25 €
from Duisburg center approx. 65 €
from Essen center approx. 75 €

the same other way...
Lounges
Düsseldorf Airport offers frequent flyers and paying customers the following lounges to bridge the waiting time before departure or onward flight:

Lufthansa Business Lounge: Access for StarAlliance Business Class guests, Miles & More Frequent Travelers and Cathay Pacific Business and First Class (Departures Area A, Schengen, level above Departures at Gate A50)
Lufthansa Senator Lounge: access for StarAlliance Gold members as well as Lufthansa and SWISS First Class travelers (departure area A, Schengen, level above departures at Gate A50)
Hugo Junkers Lounge: Access for OneWorld Sapphire and Emerald members, OneWorld Business and First Class guests, PriorityPass and paying guests (Departures Area B, Schengen, upper departures level near security control)
OpenSky Lounge: access for guests of various airlines (departure area C, non-Schengen)
Emirates Lounge: access for Skywards Gold and Platinum members as well as Emirates Business and First Class guests (Departures Concourse C, non-Schengen)
Source: Flugreise-Duesseldorf.de